As such, we thought we'd highlight 5 tips for making the most out of your trip there so that you can soak in everything this magical place has to offer.
Let's dive in.
—
Get There Early For Angkor Wat Sunrise.
Angkor Wat is at its most beautiful at sunrise and so if you're looking to take some photos, that is the best time to do it.  As the sun peeks its head over the horizon, the temple complex is bathed in this cacophony of color and light which is a truly magical experience.
Getting there early also helps to beat the crowds and give you as much time as possible to explore all that the site has to offer.
Beautiful scenes of Angkor
Take Your Time at Angkor Complex
There is a lot to explore and discover so you should plan to spend a decent amount of time there.  Some people block out 3-7 days to explore all that it has to offer and even then – you can't get to everything.  Instead of rushing around trying to tick things off a list, budget for as long as you can so you can slow down and appreciate what's around you.
This is a site for reflection and slow exploration, rather than a whirlwind sightseeing experience.
Check out the Angkor National museums
Angkor Wat has some exceptional museums that chronicle the history of the region and its peoples over the century.  If you're looking to gain some context and understanding of where you are, this is a great way to do so – and it makes everything else about the experience that much richer.
If you can only do one, then take your time to wander through the Angkor National Museum which houses the most comprehensive collection of relics from the ancient Angkorian civilization.  By walking through this time capsule, you'll have a much better appreciation of what Angkor Wat means to the local Cambodian people.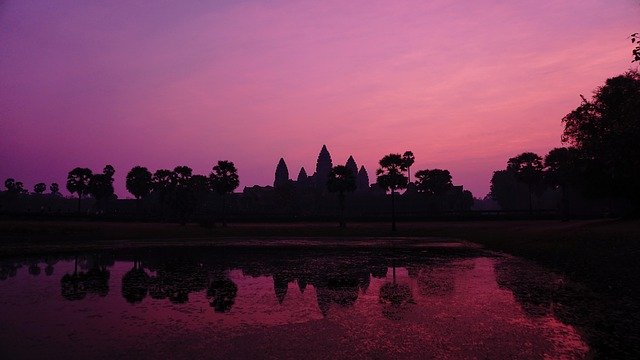 Get a local guide
If you really want to immerse yourself in the historical and cultural significance of Angkor Wat, it's best to hire a local guide that can take you through the temple complex and explain all the ins and outs of how it came to be.  This will provide a much more expansive journey that you won't forget.
In addition, a local guide will know all the best spots within the complex, so that's always an added bonus.
Be Respectful
It's important to remember that this Angkor Wat is an important religious and cultural relic that means a lot to so many people.  By dressing modestly and remaining respectful as you engage with the history, you'll be paying homage to the site and the local people.
Don't ruin the experience for someone else by being overly loud or excitable.  Instead, take your time and soak in the atmosphere as peacefully as you can.  Only then will you truly experience the mystical nature of the hallowed ground.
—
So, there you have it.  If you stick to those 5 principles, you'll have a wonderful experience visiting Angkor Wat.  We're a bit jealous that you get to do it for the first time!
Take your time and enjoy every second.  You're standing in history.